Image
64 Years of the Best Pest Control in Bixby
What kind of problem are you having? Select all that apply.
Pest Control in Bixby
As anyone who's ever experienced a pest infestation in their home can tell you, it's a stressful, anxiety-inducing, and above all, frustrating experience. So if you're dealing with unwanted bugs in your house, skip the unreliable DIY solutions and instead, hire the team that you can count on to get the job done right. When you work with us at Dandi Guaranty, you can count on our pest control in Bixby to protect your home from:
Image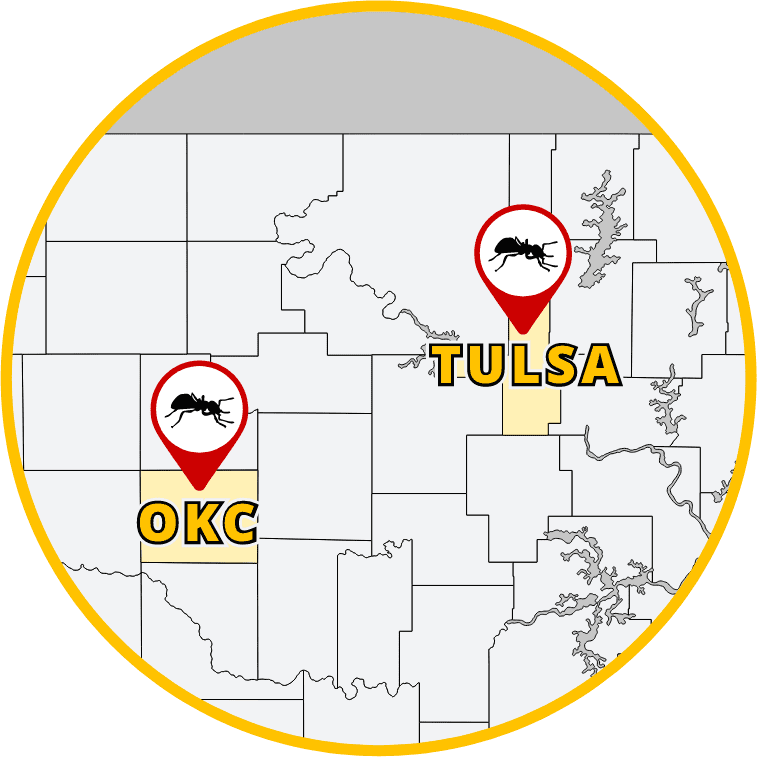 A Pest-Free Home Can Finally Be Yours
Chasing irritating bugs in and out of your home is exhausting and discouraging, to say the least. That, however, is where we come in! With more than 64 years of local experience backing up our service and a rigorously-trained team of exterminators, we have both the knowledge and skills to get rid of even the most stubborn pests in your home.
In fact, when you sign up to work with our exterminators in Bixby, you can expect: 
A free inspection

from a qualified, locally-based exterminator. 

Thorough crack and crevice treatments

to eliminate entry points from insects and rodents. 

Web and nest removal

to get rid of pests like spiders, mud daubers, and more. 

Insect bait applications

for fast and lasting removal of all unwanted bugs in and around your home. 

A granular bug-resistant barrier

around your home to help prevent infestations before they happen. 

The use of reduced-risk products

for your peace of mind.

And plenty more to offer!
Take Advantage of our Same-Day Service
Nobody wants to share their home with pests. So when they get inside, what good is a pest control company that makes you wait around for days on end to get help? At Dandi Guaranty though, that will never be a problem. All you have to do is call our phone lines anytime before noon and we'll have an exterminator at your front door that very same day! We value your time and will always put your needs first, so don't settle for a company that makes you work around it.  
Termite Exterminator in Bixby
Aggressive, destructive, and seemingly always hungry, termites are bad news. Sadly, their bad reputation has been well-earned as these small wood-destroying insects account for upwards of $5 billion worth of home damage each year! With the right termite treatment in Bixby on your side, however, you can rest easy again, knowing that your home is protected.
At Dandi Guaranty, our termite control in Bixby will keep your home secure with:
A careful in-home termite inspection

to gauge the extent of your infestation, identify termite damages, and develop a plan which addresses your concerns.

The gold-standard of termite treatment technologies

like the Sentricon Colony Elimination System. 

Discrete underground bait stations

which help prevent termite infestations from happening in the first place.

Reduced-risk termite control products

that keep your loved ones safe at every step of our service.
Bed Bug Exterminator in Bixby
From managing day to day tasks to allowing productivity and pretty much everything in between, a good night's sleep is an essential part of getting the most out of your day. With bed bugs crawling all over your home though, quality rest simply isn't going to happen. That's precisely why you need the very best bed bug treatment in Bixby. You and your loved ones should never have to compromise on something as important as rest and relaxation and with us on your side, you never will! 
Our bed bug treatment in Bixby includes:
A free and comprehensive inspection

to find every last bed bug in your home.

Available heat and conventional bed bug removal methods

, for maximum effectiveness against even severe infestations.

Recurring quarterly bed bug prevention service

to ensure year-round relief. 

The

peaceful, restful, and relaxing home

that you deserve.
Rodent Removal in Bixby
Few pests can cause problems to your home quite like rodents. Rats and mice can chew through wires, contaminate food, damage walls and baseboards, and cause potential fire hazards. With the many different types of bacteria rodents carry, they can transmit diseases such as Hantavirus and Tularemia. If you are experiencing a possible rodent infestation, let the expert exterminators at Dandi Guaranty treat your home and rid rats and mice for good.
Our rodent control in Bixby includes: 
A thorough rodent inspection to indicate where rats and mice are hiding and possibly breeding.
A customized treatment plan tailored to your home to prevent rodents from infesting your home any longer. 
Same-day servicing to ensure your pest problem is taken care of as quickly as possible.
Recurring treatment plan options if your infestation is severe. 
A complete satisfaction guarantee!
Servicing Homes For Over 64 Years
We know the importance in hiring a pest control company to do the job right the first time. Dealing with mice and rats can be stressful, so we want to make sure you are utilizing a company that is trustworthy and has the experience to handle your issue properly. Dandi has been servicing homes since 1959, so call an expert today about our rodent control in Bixby to provide not only the background knowledge, but the ongoing experience that leads to satisfying results. 
Mosquito Exterminator in Bixby
Don't let mosquitoes and ticks ruin your outdoor fun! Our mosquito and tick service in Bixby provides effective and reliable pest control that will keep you and your family safe and comfortable all year long. Here's what we offer:
Free quote:

Get a custom estimate based on your specific needs and property size.

Mosquito barrier spraying:

Our EPA-approved liquid sprays create a barrier around your yard that keeps mosquitoes and ticks at bay.

Three-week cycle:

Our recommended spraying schedule ensures that your yard stays protected all season long.

Targeted larvicides

: We also use targeted larvicides in areas where mosquitoes and ticks are more likely to breed.

Special event spraying:

Planning an outdoor party or wedding? We offer special event spraying to ensure that your guests stay bite-free.
With our mosquito treatment and prevention services, you can enjoy the outdoors without worrying about pests. Our trained mosquito exterminators use the latest techniques and products to keep your yard pest-free. Plus, our commitment to customer satisfaction means that we won't stop until you're completely happy with our services.
Ant Exterminator in Bixby
Are ants invading your home? Don't let them take over! Our expert ant exterminators have the solution to get rid of ants for good. Here are the specific features of our ant control in Bixby - we treat the most common ant species in the area:
Odorous house ants

Carpenter ants 

Acrobat ants

Fire ants

Harvester ants

Little black ants
Don't wait for the ants to take over. Call us today to schedule your ant control service in Bixby. Our expert exterminators will eliminate the problem and keep your home or business ant-free.
Delivering Results for You - No Matter What
A pest control company that doesn't stand behind its work simply can't be trusted to deliver for you. At Dandi Guaranty, your confidence and trust means everything to us and we aim to earn it with the quality of our service and by achieving a pest-free home for you every time. Bugs are clever and stubborn though, making them a formidable opponent at times. That however, is why we back up our pest control services in Bixby with free re-treatments if you aren't satisfied, or if pests return once we've left. Just let us know and we'll come back to make things right.
Areas We Service Around Bixby
Looking for pest control exterminators around Bixby? We also service the following locations: