Image
Over 64 Years Of Expert Pest Control in Jenks
What kind of problem are you having? Select all that apply.
Pest Control in Jenks
A pest invasion can get very stressful, very fast. It's tempting to try to handle it on your own, but calling a professional exterminator saves you time, instead of trying at-home methods that may make an infestation worse. Here at Dandi Guaranty, we have 64 years of experience protecting homes from:
Ants

Roaches

Silverfish

Bedbugs

Rodents

Scorpions

Stinging Insects

Millipedes

Centipedes

And many more!
Image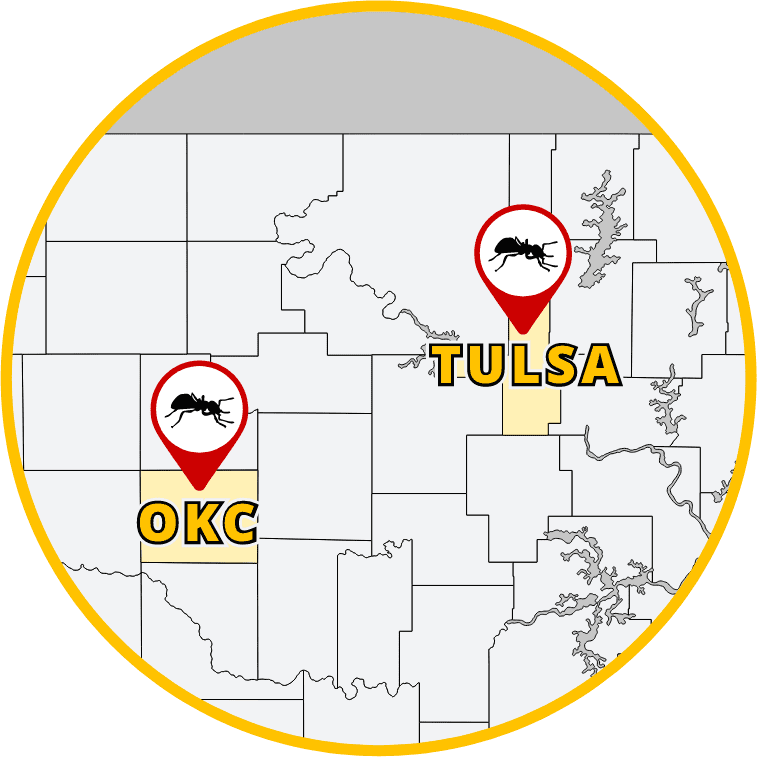 A Pest-Free Home That Lasts
Our expert exterminators out of Tulsa know the importance of getting rid of insects and rodents, but we also understand the validity of pest prevention, which keeps them from entering your home again.That's why here at Dandi Guaranty, we take a tactical approach using a 5-step application process to fight off current pests and defend against any newcomers. When you call one of our exterminators, you can expect:
A free, thorough inspection

conducted by our well-trained exterminators.

Treatments at cracks and crevices

for potential pest entry points.

Web and nest removal

for unwelcome spiders, mud daubers, and more.

Insect bait applications

for pest removal that lasts.

A bug-resistant barrier around your home

so that pests don't come back.

Re-treatments, evaluations, and inspections at no extra cost

when you choose one of our warranty-backed pest control plans.
The Dandi Satisfaction Guarantee
You shouldn't have to wait around for pest relief. We offer same-day service when you call before noon so that you can enjoy your home again as quickly as possible. You can even get $50 off your first pest control service! If you are unhappy with our service the first time around, let one of our technicians know and we will make it right and re-treat your home for free!
Termite Exterminator in Jenks
Termites are some of the most destructive pests out there. They love to feed on wood structures, tunnel under building foundations, and if they get hungry enough they'll go for pipes and insulation too. A termite infestation can cause expensive property damage when you don't spot these pests in time. Professional termite control is the best way to make sure that these pests are eliminated and don't return. At Dandi Guaranty, we have multiple termite treatment strategies ready to defend your home, your wallet, and your peace of mind.
When you count on our termite exterminators for termite treatment in Jenks, you can expect:
A thorough inspection

of your home to assess your specific situation.

Above-ground stations

for monthly monitoring.

Installation of

top-notch termite control technology

from Sentricon.

Subterranean termite baits

that discreetly prevent any more infestations.

The use of

reduced-risk products

that are safe for your family.
Bed Bug Exterminator in Jenks
Home should be a place of rest and relaxation, especially when it's time for bed. Nothing disrupts a serene nighttime routine like discovering discarded bed bug skins, or the reddish brown stains they leave on your sheets. Meanwhile, the itchy bites they give sure don't promote a good night's sleep either. Our exterminators at Dandi Guaranty not only get rid of bed bugs, but take a proactive approach so that you can rest easy in the long run.
When you call us for bed bug treatment in Jenks, you can expect:
A free inspection of your home

from one of our highly-trained exterminators.

A five-week minimum program

that includes treatment applications, vacuuming, and inspections.

Both heat and chemical treatment methods

for comprehensive extermination.

Recurring quarterly service

to ensure bed-bugs don't return.

Preventative treatment options

with treatment every six months.
Reclaim your relaxation time and call our in-person phone lines today for bed bug treatment and prevention.
Rodent Control in Jenks
If you are noticing structural damage around your home and black marks along the baseboards, chances are you have rodents inside your home. Mice and rats can be problematic not only because of damage around your house, but also in regards to health hazards as they carry a variety of diseases. If you are noticing a possible infestation, contact the expert exterminators at Dandi for rodent control in Jenks. Catching and dealing with an infestation the moment you notice rodent activity is vital as these pests can multiply quickly. 
When you call our rodent exterminators, they will: 
Conduct a free home inspection to figure out the severity of any infestation. 
Implement a custom plan that includes baits, traps, or pesticides depending on what's needed. 
Provide insightful improvements and tips to ensure your home stays rodent-free.
Offer recurring treatments for rodent prevention if needed.
Provide same-day servicing and a satisfaction guarantee.
Areas We Service Around Jenks
Looking for pest control exterminators around Jenks? We also service the following locations: