Image
Quality Same-Day Pest Control in Oklahoma City
What kind of problem are you having? Select all that apply.
Pest Control in Oklahoma City
Are you tired of spending your precious free time battling pests in your home? We get it, nobody wants to be playing hide-and-seek with ants, cockroaches, or even worse, scorpions! And let's not forget about those creepy spiders lurking in the corners, just waiting to give you a fright. But fear not, because our team of exterminators at Dandi Guaranty is here to save the day! With over 64 years of experience under our belts, we're the experts in pest control in Oklahoma City! 
Our exterminators in Oklahoma City provide protection against:
Ants
Cockroaches
Termites
Spiders
Bed Bugs
Mosquitoes
Mice and Rats
Stinging Insects
Scorpions
And many, many more!
We know exactly how to keep your home safe and pest-free, so you can finally enjoy your free time without worrying about unwanted visitors. So why wait? Say goodbye to those unwelcome critters and hello to a pest-free home. Contact our pest control experts in Oklahoma City today and let us take care of all your pest control needs!
Image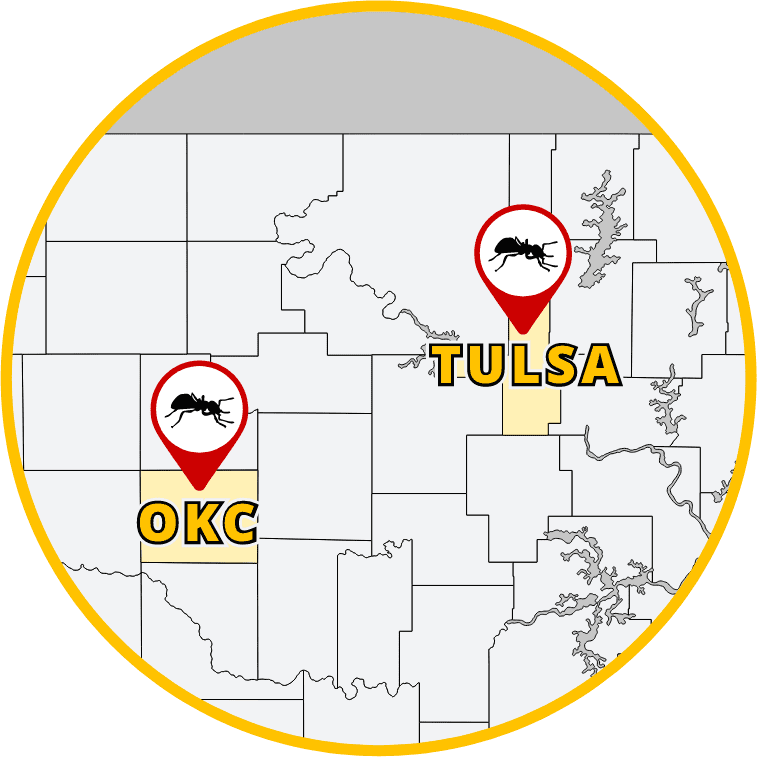 Termite Control in Oklahoma City
Are you ready to take a stand against sneaky, wood-destroying intruders? We've got your back! Our top-notch termite control services in Oklahoma City are here to save the day and protect your home from these pesky pests. With our expert termite treatment, we'll eradicate termites and keep your home safe and sound. So, how do you know if you're dealing with a termite infestation? 
Keep an eye out for these telltale signs of termites in Oklahoma City:
Sagging or buckling floorboards that may look like water damage.
Warped door or window frames that just don't quite fit right.
Faint scratching or clicking noises coming from behind your walls.
Hollowed-out wooden fixtures that feel unnervingly papery.
Discarded insect wings scattered around your home.
Sooty brown or black droppings that are definitely not a good sign.
If you notice any of these signs, don't hesitate - reach out to us immediately! Time is of the essence when it comes to termite control. Let us be your heroes and protect your home from these destructive invaders. Together, we'll make sure your home stays safe and termite-free for years to come.
Bed Bug Treatment in Oklahoma City
Are bed bugs invading your home and disrupting your peace of mind? Don't let these stubborn pests take over your sanctuary any longer. At Dandi Guaranty, we understand the frustration and anxiety that bed bugs can cause, which is why we offer the most comprehensive bed bug treatment services in Oklahoma City.
When you choose our expert team of bed bug exterminators, you can expect nothing but the best:
Our highly-trained technicians will conduct a careful and free inspection of your home, leaving no hiding spot unchecked. 
We use reduced-risk bed bug control products that prioritize your safety and peace of mind, ensuring that your family and pets are protected throughout the process.
Our flexible approach includes available chemical treatments tailored to your specific needs, combined with thorough vacuuming and removal of all bed bugs. 
We leave no trace of these bloodsucking pests behind. 
To prevent future infestations, we offer a quarterly bed bug prevention service, keeping your home bug-free all year round.
Imagine the relief of finally having a peaceful, relaxing, and restful home again. With our bed bug treatment services, that dream can become a reality. Say goodbye to sleepless nights and itchy bites. Choose Dandi Guaranty and experience the difference of a truly effective bed bug extermination in Oklahoma City!
Rodent Control in Oklahoma City
Are rats and mice wreaking havoc in your home? Don't let these pesky critters cause damage to your property and put your family at risk. At Dandi Guaranty, we have a team of rodent control experts in Oklahoma City who are ready to tackle your rodent problem head-on.
Our rodent exterminators in Oklahoma City provide:
An Inspection: Our rodent exterminators will conduct a thorough inspection of your home and surrounding property to identify any signs of a rodent infestation. We leave no stone unturned in our mission to eliminate these unwanted guests.
Rodent Removal: Once we've assessed the situation, we'll create a customized removal strategy tailored to your unique needs.
A Rodent-Free Home: We not only eliminate the current infestation, but we also provide guidance on how to protect your home from future invasions.
Quarterly Plan: For added peace of mind, we recommend setting up a quarterly screening of your property.
Guaranteed Satisfaction: When you choose Dandi Guaranty Pest Control, you can trust that your frustrating pest problems will be swiftly and skillfully solved. We stand behind our services with a satisfaction guarantee.
Don't let rodents take over your home and risk your family's health. Our rodent control services in Oklahoma City are here to reclaim your home and provide you with a pest-free environment. Contact us today and say goodbye to these unwanted guests for good!
Mosquito Control in Oklahoma City
Don't let mosquitoes and ticks ruin your time outside! We understand nothing can kill the mood faster than those blood-sucking pests buzzing around your head or feasting on your ankles. But fear not because our professional mosquito control services in Oklahoma City are here to save the day! With our top-notch mosquito exterminators on the job, you can finally reclaim your yard and enjoy the great outdoors without worrying about those annoying insects. 
Here's what you can expect when you choose to work with the mosquito exterminators at Dandi:
Free quote
Mosquito barrier spraying
EPA-approved liquid sprays
Targeted larvicides
Special event spraying if needed
At Dandi, we take pride in our commitment to customer satisfaction. Our trained mosquito exterminators use the latest techniques and products to provide you with the best mosquito control services in Oklahoma City. Contact us today for a free quote, and let us take care of your mosquito control needs!