Image
64 Years of the Best Pest Control in Sand Springs
What kind of problem are you having? Select all that apply.
Pest Control in Sand Springs
With over 64 years of experience, our team of expert exterminators in Sand Springs, OK, is dedicated to providing you with efficient, reliable, and same-day pest services. We offer a pest-free guarantee, ensuring your 100% satisfaction or your money back.
Living in Sand Springs can create a breeding ground for insects and rodents. But don't worry, we offer a comprehensive range of pest control services to keep your home and family safe. 
Our pest control in Sand Springs includes protection against:
Ants

Bed Bugs

Mosquitoes

Rodents

Termites

And more!
At Dandi Guaranty, we believe that a pest-free home is a happy home. Don't let pests disrupt your peace of mind. Contact us today to schedule your same-day service and experience the difference in working with the best pest control company around!
Image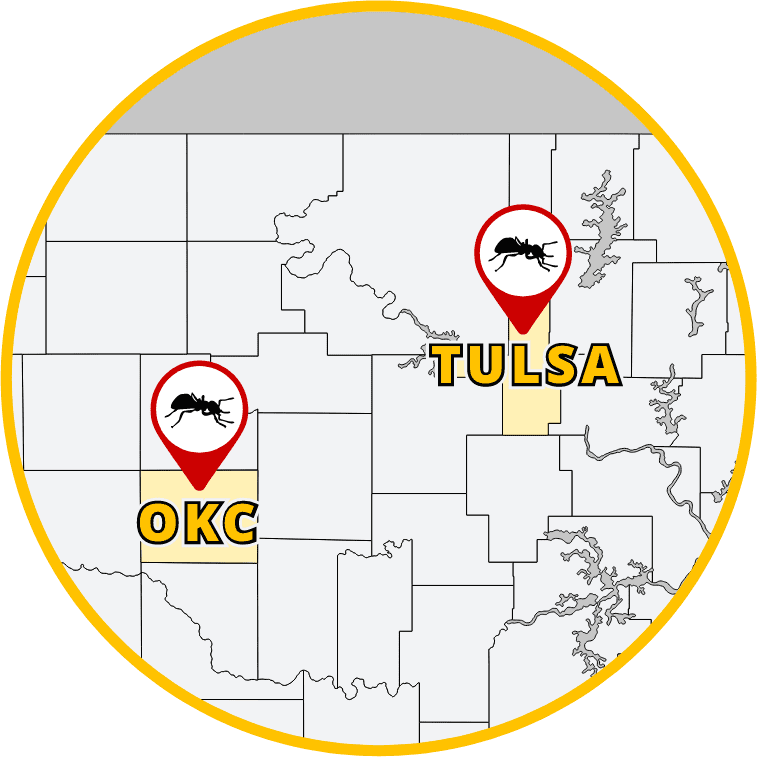 Termite Exterminator in Sand Springs
Are you tired of worrying about termite infestations in your home? Let our termite exterminators in Sand Springs take care of it with our comprehensive termite treatments.
Our termite control services in Sand Springs include:
A comprehensive termite inspection

Family-and-pet-friendly treatments

Ongoing termite monitoring and protection
Living in Sand Springs, we understand the need for ongoing termite monitoring. Our climate creates the perfect environment for termites to thrive, making it crucial to keep a close eye on your home. Our Sentricon Termite Elimination System is backed by more than 60 scientific and 30 independent research studies, proving it to be the best method to eliminate termites. With over 64 years of experience, you can trust that our termite exterminators in Sand Springs will keep your property termite-free. Contact us now for more information.
Mosquito Exterminator in Sand Springs
Protect your family from mosquitoes with our professional Mosquito Control in Sand Spring, OK! Our experts are trained in mosquito treatment and offer a variety of services to keep your yard free of these unwelcome pests. Our mosquito exterminators use the latest techniques and equipment to provide fast and effective service.
Here are just a few reasons why you should choose our mosquito control service in Sand Springs:
Free Quote:

We offer a free quote so you can know exactly what to expect before you commit.

Mosquito Barrier Spraying

: Our EPA-approved liquid sprays create a barrier against mosquitoes, keeping your family safe.

Larvicides

: Our targeted application in common breeding areas helps prevent the growth of these insects.

Special Event Spraying:

Keep your outdoor celebrations mosquito-free with our special event spraying.
With Oklahoma's climate and geography, seasonal mosquito control is necessary for any outdoor space. Our mosquito prevention services will keep you and your family safe from itchy bites and potential diseases. Call us today to schedule a free quote and take the first step in protecting your family.
Ant Exterminator in Sand Springs
Are you tired of dealing with ants invading your home? Our professional ant control in Sand Springs has got you covered. 
Our services are proven to control:
Odorous house ants

Carpenter ant

Acrobat ants

Red fire ants

Harvester ants

Little black ants
We understand that ant infestations can be frustrating and overwhelming, which is why our team of exterminators is dedicated to providing the highest quality ant control. We use the latest ant prevention and treatment techniques to ensure that your home or business is protected from ants all year round. Contact us today for efficient and effective ant control in Sand Springs!