Image
Save $50 on Same-Day Pest Control in Owasso
What kind of problem are you having? Select all that apply.
Pest Control in Owasso
Nuisance bugs don't belong in your home and yet time and time again, they try to sneak inside. If you're sick and tired of the never-ending cycle of chasing them out of your house just to watch them come right back, professional pest control in Owasso is exactly what you need! Here at Dandi Guaranty, our local exterminators will protect your home from the following:
Ants

Cockroaches

Termites

Spiders

Bed Bugs

Mosquitoes

Stinging Insects

And many others!
Image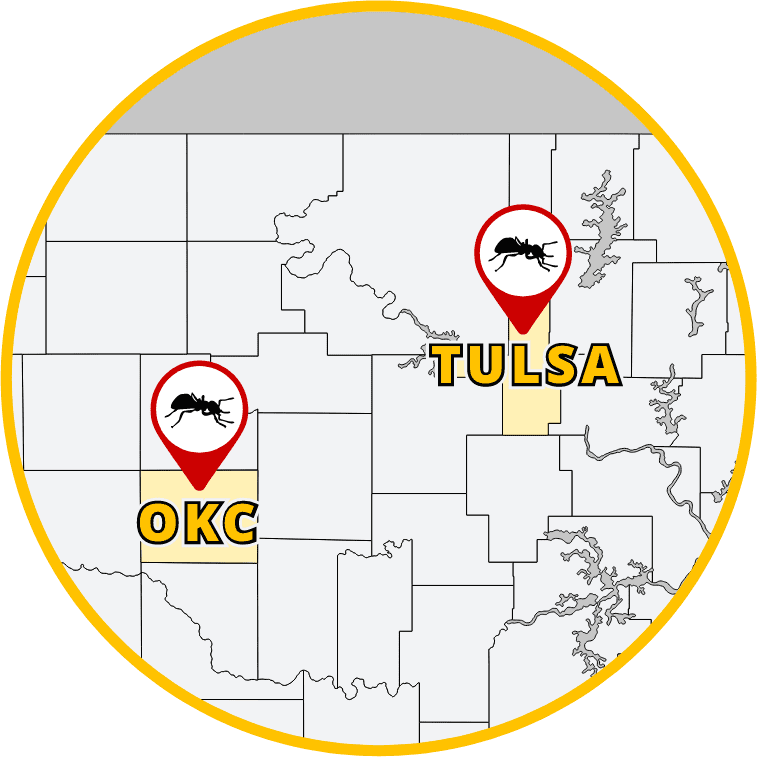 Finally Get Rid of Pests for Good
Dealing with a pest infestation on your own isn't just frustrating, but it can be ineffective as well, just making the problem worse as it goes on. If you're looking for long-lasting, comprehensive relief from even the most stubborn bugs, we're here to help. During our more than 64 years in business, we've developed a tried-and-true 5-step pest control method in Owasso City which we guarantee to deliver results every time! So contact Dandi today and you'll receive:   
A free in-home inspection

to assess your unique pest control needs. 

Crack and crevice treatments

to remove bugs' preferred points of entry into your home. 

Careful removal of spider webs and mud dauber nests.

Strategic applications of insect baits

which will quickly resolve pest problems both in and around your home. 

A granular insecticide barrier

around your home's exterior to stop nuisance bugs from coming back 

Free re-treatments

if you aren't happy with our work or if insects and rodents persist.
Save $50 on your first service
Same-day Service and Customer Satisfaction
As if dealing with an infestation wasn't difficult enough already, so many pest control companies seem perfectly comfortable making you wait for days on end to get help. Not us, though! At Dandi Guaranty, our exterminators offer guaranteed customer satisfaction as we will re-treat your home for free if you aren't happy the first time around. Don't settle for a company that makes you adjust to its schedule and instead, choose the team that puts your needs first for quality pest control in Owasso.  
Termite Exterminator in Owasso
Of all the nasty, nerve-wracking pests out there, termites may well be the worst. After all, these destructive little bugs cause in excess of $5 billion to America's homes each year! If that number is alarming to you, we don't blame you one bit. Instead of panicking though, why not protect your home with the best termite treatment in Owasso? Our highly-trained, local exterminators have the skills, tools, and experience needed to keep your home safe from even the hungriest termite species. 
Our termite control services in Owasso includes:
A thorough home inspection

to properly assess the extent of an infestation, identify termite-related damage, and develop a plan to meet your needs.

Reduced-risk treatment products

for your safety and peace of mind. 

Cutting-edge termite treatment tools

like the Sentricon Colony Elimination System. 

Discrete subterranean bait stations

to help prevent infestations before they happen.
Bed Bug Exterminator in Owasso
Quality rest is essential for productive days and a healthy lifestyle. But when you're suffering through a bed bug infestation, getting the sleep that you need is impossible. These tiny parasitic pests leave behind itchy bites, unpleasant odors, and a general feeling of unease wherever they go and worse still, are notoriously tough to deal with on your own. With bed bug treatment in Owasso from Dandi Guaranty though, you can finally reclaim your rest! Sign up for our service today and you'll receive: 
A comprehensive in-home inspection

to find even the most well-hidden bugs.

Available heat and conventional bed bug treatments

, depending on your needs.

Recurring quarterly service

for long-lasting protection. 

A peaceful, relaxing, and

bed bug-free home.
Rodent Exterminator in Owasso
While they may seem harmless at times, rodents are characterized by powerful front teeth that never stop growing. Their natural instinct is to chew in order to wear down those sharp incisors. Chewing is good for mice and rats, but definitely not good for the structures and food products in your home. Even the cleanest of homes can attract rats and mice, especially when the weather gets cold or rainy. If you do notice signs of rodents in your home, then it's best to call a professional rodent exterminator in order for the problem to be fully addressed. 
Whether you're looking for prevention or coping with a rodent infestation, the highly qualified exterminators here at Dandi Guaranty are ready to take your call. When you contact Dandi Guaranty for rodent control in Owasso, you can expect:
A thorough inspection

of your home and its surroundings.

A rodent removal strategy

customized to your needs.

Multi-faceted rat and mice removal

using a combination of baits, traps, and rodenticides.

Advice on improvements

to prevent future infestations.

Quarterly screening options

for ongoing prevention.

A satisfaction guarantee!
Call today and receive comprehensive rodent control in Owasso, including same-day service
Mosquito Control in Owasso
Tired of biting mosquitoes ruining your outdoor fun in Owasso, OK? Owasso's climate and geography create the perfect breeding ground for mosquitoes, making mosquito control essential. We have the solution for you! Our top-notch mosquito control services include:
A free quote for our services

EPA-approved mosquito barrier spraying your yard on our recommended three-week cycle

Larvicides in targeted areas to prevent mosquitoes from breeding

Special event spraying to keep your guests happy and comfortable
Our mosquito exterminators in Owasso will provide effective mosquito prevention to keep your yard and family safe. Trust Dandi Guaranty to create a mosquito-free oasis in your backyard. Contact us today for a free quote!
Ant Exterminator in Owasso
Are you tired of battling ant infestations in Owasso, Oklahoma? Look no further than our unbeatable ant control services. Our expert ant exterminators have the knowledge and equipment needed to get rid of ants and prevent future infestations. 
Here's what sets our Ant Exterminator in Owasso apart:
Specialized treatments for odorous house ants, carpenter ants, acrobat ants, red imported fire ants, harvester ants, and little black ants.

Our ant prevention methods are second to none. We work to identify and eliminate ant-attracting factors.

Our ant treatments are safe and effective for your family and pets.

Our expert team is reliable and committed to providing exceptional customer service.
Don't let ant infestations control your life. Take back control with our professional ant control in Owasso, OK.
Your Safety Comes First
Dealing with unwanted pests is stressful and unpleasant enough already without having to worry about whether or not your loved ones are safe. That's why we prioritize your family's health and well being by using exclusively reduced-risk products both in and around your home. Getting rid of pests should never come at the cost of putting those closest to you in harm's way. So choose the local pest control experts who always go above and beyond for your safety and peace of mind! 
Areas We Service Around Owasso
Looking for pest control exterminators around Owasso? We also service the following locations: