Image
Quality Same-Day Pest Control in Sapulpa
What kind of problem are you having? Select all that apply.
Pest Control in Sapulpa
Are you tired of dealing with insects and rodents in your home? Our pest control services in Sapulpa, OK, have you covered. With over 64 years of experience, our exterminators are equipped to handle any pest problem. Living in Sapulpa's warm climate means that bugs can thrive, but we offer a range of services to keep your home pest-free, including:
Residential Pest Control

Mosquito Control

Rodent Control

Termite Control

Bed Bug Control

And more!
Don't let pests take over your home. Our same-day service and pest-free guarantee ensure that we'll get the job done right the first time. We're committed to your satisfaction and offer a 100% guarantee. Protect your home and family from pests today. Give us a call to schedule your appointment.
Image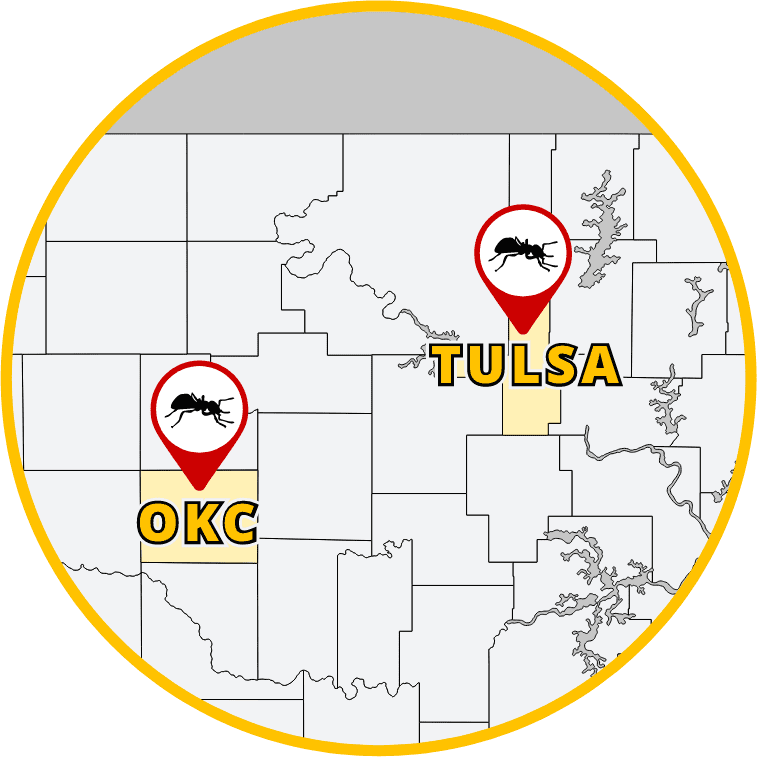 Termite Exterminator in Sapulpa
Protect your home and loved ones with our safe and effective termite treatments. Our termite exterminators in Sapulpa use the Sentricon Termite Elimination System, which is backed by over 60 scientific studies and 30 independent research studies to prove it's the best method to eliminate termites.
Don't let Sapulpa's climate bring unwanted guests into your home. Our ongoing termite control, termite monitoring, and prevention services provide complete protection for your property. Our exterminators will perform thorough termite inspections to ensure your home remains termite-free.
Say goodbye to the stress of termite infestations with our effective termite treatment methods. With over 64 years of experience, we have the expertise to handle any termite situation.
Mosquito Exterminator in Sapulpa
Get back to enjoying your yard with our premier mosquito control in Sapulpa, OK. Our expert team is equipped with EPA-approved liquid sprays and larvicides to ensure your outdoor space is protected from these irritating pests. 
Some of the perks of our mosquito control services in Sapulpa include:
Free quote for your personalized mosquito barrier spraying

Recommended three-week spraying cycle to maintain a mosquito-free zone

Targeted spraying for special events

Experienced exterminators to handle any mosquito treatment or prevention needs
Living in Sapulpa means dealing with mosquitoes, but our services make it easy to reclaim your outdoor space. With our expert knowledge of local climate and geography, we make sure your family is protected from mosquitoes year-round. Don't let mosquitoes ruin your outdoor plans this year. Contact our team of professionals today to schedule your mosquito control appointment.
Areas We Service Around Sapulpa
Looking for pest control exterminators around Bixby? We also service the following locations: