Image
Quality Same-Day Pest Control in Broken Arrow
What kind of problem are you having? Select all that apply.
Pest Control in Broken Arrow
Does it ever feel like you spend all of your free time chasing pests out of your home only to watch them come right back at the first opportunity? Well if so, you aren't alone! But when you've got a dependable pest control company on your side with expert exterminators in Broken Arrow, you can finally get lasting protection from nuisance bugs like:
Ants

Cockroaches

Termites

Spiders

Bed Bugs

Mosquitoes

Stinging Insects

And many more!
Image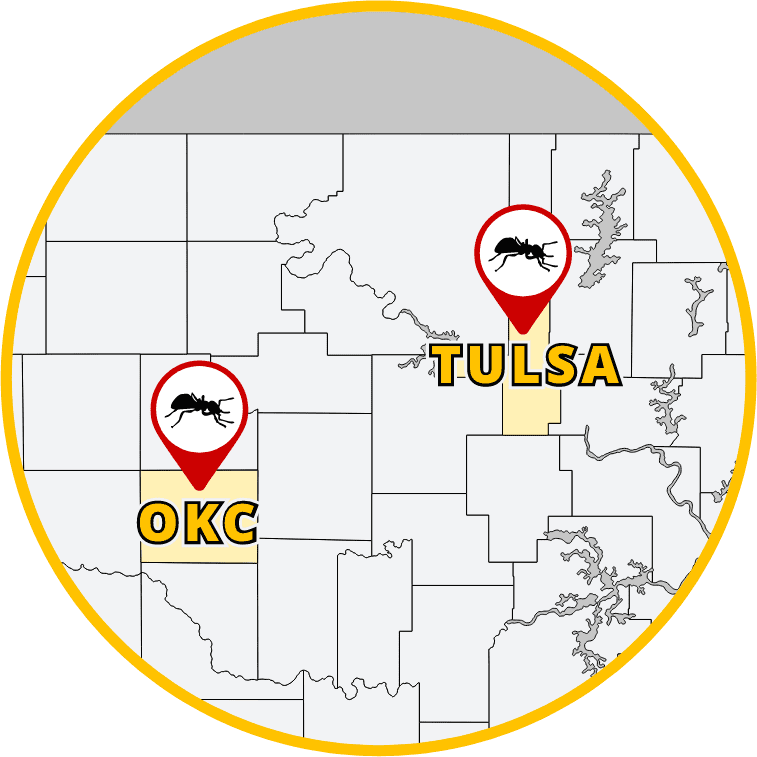 Get The Pest-Free Home That You Deserve
What good are pest removal services if the results don't last? At Dandi Guaranty, our pest control in Broken Arrow is designed to provide long term relief from even the most stubborn and aggressive bugs and rodents. After all, you and your loved ones deserve to feel safe, comfortable and relaxed in your own home! Our tried-and-true 5-step process has been carefully crafted over our more than 61 years in business and includes:  
A free and thorough home inspection

to properly assess your needs. 

Crack and crevice treatments

which eliminate vulnerable areas that allow insects and rodents to enter your home. 

Strategic bait applications

that quickly get rid of both household and yard pests. 

Liquid and granular insecticide treatments

that create a pest-resistant barrier and prevent future infestations

Reduced-risk products

for maximum peace of mind.

24 Hour in-person phone lines

so you can get the help you need whenever you need it.
Same-Day Appointments Available
Sharing your home with bugs is unpleasant enough without living alongside them for an extended period of time. At Dandi Guaranty though, we eliminate the interminable wait times with our available same-day service! Just give us a call before noon and we'll send a trained and experienced pest exterminator to your home right away. Not in Broken Arrow? Our Tulsa pest control experts service the surrounding areas in Northeast Oklahoma. 
Termite Treatment in Broken Arrow
Termites aren't just a pain to deal with, they're among the most destructive household pests that you're likely to ever come across. In fact, these tiny wood destroying bugs are responsible for upwards of $5 billion worth of damage nationwide each year! With the experts at Dandi Guaranty on your side though, along with our outstanding termite treatment in Broken Arrow, you can rest easy knowing that your home will stay safe all year. When you choose to work with our company of 60+ years, you can expect:
A thorough home inspection

from a trained local expert to assess the extent of your infestation and any related damage.

Reduced-risk termite control products

for your family's safety and peace of mind. 

Industry-leading termite treatment technology

including the Sentricon Colony Elimination System. 

Underground bait stations

which help prevent infestations before they occur.

Long-lasting relief from wood destroying insects.

And more!
Bed Bug Treatment in Broken Arrow
During a bed bug infestation, even something as simple as a good night's sleep can be too much to ask. These tiny, bloodsucking insects are among nature's most accomplished hitchhikers, sneaking into your home on clothes, in luggage, or even in packages and once they're in, they're awfully tough to get rid of. Unless of course, you've got the very best bed bug treatment in Broken Arrow! With available heat and chemical treatments, as well as quarterly prevention service, we at Dandi Guaranty are precisely the team you need to keep a bed bug-free home all year. 
Treating for bed bugs is a time-sensitive issue, so let our exterminators know right away if you notice any of the following signs of their activity in your home. 
An unpleasant odor in an affected room, similar to mildew or a wet towel.

Small brown or rust-colored stains on bedding, furniture upholstery, or fabric surfaces.

Itchy red bites on your skin. 

Discarded bed bug skins and eggshells, which can often be found in drawers.

Live adult specimens anywhere in your home.
Rodent Control in Broken Arrow
Like most mammals, mice and rats and rats seek food, shelter, and water above all else. When unchallenged, rodents can cause expensive property damage when they find shelter within your home. Whether you're seeing live rodents or just the signs they leave behind, it's best to call a rodent exterminator to handle the problem. 
At Dandi Guaranty, we have technicians ready to provide top-notch rodent control services, including:
A detailed inspection

of your home and property for rodent activity.

A tactical rodent removal plan

using a combination of tamper-proof baits and rodenticides.

Assessment on future steps

to prevent future rodent problems.

Quarterly plans and screenings

if necessary.

Same-day service options

so that you can get timely relief.
Our rodent control services are also backed by our satisfaction guarantee that includes free re-treatments if rodent problems recur. We're even offering $50 off initial service! Don't let rodent problems wait.
We Aren't Done Until You're Happy
When it comes to getting rid of pests in your home, you need a team that you can depend on to deliver the results that you need. Here at Dandi Guaranty, our pest control in Broken Arrow puts your happiness and peace of mind first, backing every service that we provide with available free re-treatments! If you're unhappy with our work for any reason or if your pest problems persist after our service concludes, just let us know and we'll come right back to make things right at no extra cost to you!
Areas We Service Around Broken Arrow
Looking for pest control exterminators around Broken Arrow? We also service the following locations: