Image
Save $50 on Experienced Pest Control in Muskogee
What kind of problem are you having? Select all that apply.
Pest Control in Muskogee
Absolutely nobody wants to live in a home that's been overrun by irritating and troublesome pests. Still though, despite that fact, they keep trying to get inside your home all the same. Finally put a stop to unwanted pests for good and let our exterminators in Muskogee keep your home free from: 
Ants

Cockroaches

Termites

Spiders

Bed Bugs

Mosquitoes

Stinging Insects

And many others!
Image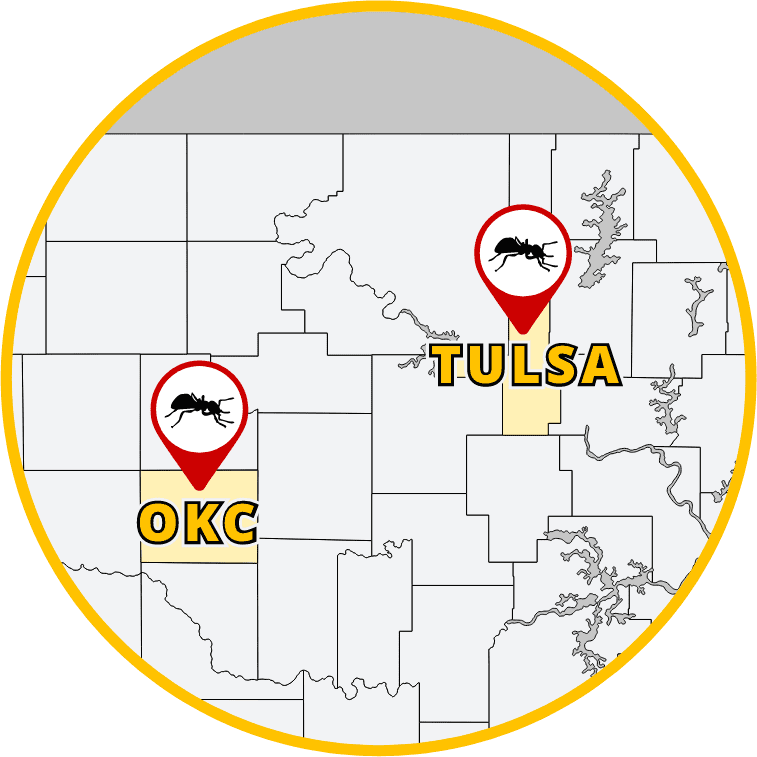 Count on Our 60+ Years of Experience
From a distance, a pest infestation might not seem like such a big deal. But when you're living alongside nuisance bugs, your house will quickly feel like less of a home and more of a headache. That, among so many other reasons, is why you can't trust anyone but the very best to provide you with pest prevention and removal service. With more than 60 years of local experience to our name though, our pest control in Muskogee is ready and able to resolve even the most severe infestations with comprehensive services like: 
Free home inspections

from highly-trained, locally-based Muskogee exterminators.

Crack and crevice service

which eliminates bugs' most likely entry points. 

Bait applications

which attract and get rid of bugs quickly. 

Granular repellent treatments

around your home which will keep a wide variety of pests away. 

Web and nest removal

which specifically targets spiders and wasps.

Our complete satisfaction guarantee

and no-cost re-treatments if bugs return after we're gone. 

And much more!
Get Started With An Online Consultation
Family-Friendly Service
The world of pest treatment products is full of harsh chemicals which can leave behind dangerous residues and put your loved ones in danger. At Dandi Guaranty however, our exterminators put your peace of mind first and only use safe, reduced-risk products around your home. Proper pest control doesn't need to put your family in harm's way and when you work with us, it never will!
Get the Help you Need Today
Despite what some of our competitors may want you to believe, getting quality pest control in Muskogee doesn't have to take forever. In fact, we at Dandy Guaranty take pride in providing our customers with relief from bugs as fast as we can with our available same-day service! Just give us a call anytime before noon and we'll spring into action, resolving your pest-related woes in a hurry. 
Termite Treatment in Muskogee
Termite prevention isn't easy. These pests work quickly and quietly, completely infesting your home before you even realize there's a problem. Instead of trying to tackle them on your own and potentially making things worse, trust our expert termite treatment in Muskogee. With these pests causing billions of dollars a year, taking care of a termite infestation should be priority number 1. We use reduced-risk products that are safe for your family but still effective against unwanted pests.
When you trust our termite treatment, we will:
Conduct a

thorough inspection

of your home to look for signs of termite damage.

Eliminate the infestation using the

Sentricon Elimination System.

Place bait stations around your home

to prevent termite activity. 

Schedule

same-day service

when you call before noon.

Give you our

satisfaction guarantee

, which includes free re-treatments.
Bed Bug Treatment in Muskogee
Bed bugs are tricky because anyone can pick them up inside their luggage, on their clothes, or on second-hand furniture. While they're easy to bring inside, it's not as easy to eliminate bed bugs. These tiny pests can hide in the creases of your mattress, behind picture frames, and in your carpet. Instead of letting them disrupt your sleep, trust our bed bug treatment in Muskogee. We offer flexible, comprehensive bed bug control to give you results in no time.
Our bed bug treatment includes:
An inspection performed by one of our highly-trained bed bug exterminators.

Reduced-risk products that are both safe and effective.

Chemical treatments as needed, followed by a thorough vacuuming.

Quarterly services to prevent bed bugs from moving in.

A bed bug-free home or we'll re-treat for free!
Rodent Control in Muskogee
Few pests can cause damage and destruction to your home quite like mice and rats, which is why you should turn to Dandi for rodent control in Muskogee to treat an infestation. With the constant gnawing on anything that gets in their way, the contamination of your food, and transmission of dangerous diseases, including Hantavirus and Salmonella, there are many reasons to quickly evict these vermin. Dandi Guaranty has been providing rodent prevention services since 1959, so we know how to treat your home and get rid of rats and mice for good.
When you partner with our technicians for rodent control in Muskogee, you can expect:
A

comprehensive inspection

by one of our licensed rodent exterminators to find nesting and entry points.

A

customized treatment plan

designed with your home and family's needs in mind.

Use of

strategically placed rodenticides, exterior and interior tamper-proof rodent stations, and monitoring devices

that protect the safety of your family and pets.

The option of

recurring plans for added peace of mind

.

Guaranteed satisfaction! 
Flexible Services to Fit Your Needs
Because we believe at Dandi Guaranty in delivering services that respect our customers' needs, we provide options to make your life easier. Same-day and next-day appointments allow us to accommodate your busy schedule without making you wait for relief from rats and mice. We also offer no-contract or recurring treatments depending on if you want to eliminate a current rodent infestation or prevent future occurrences from happening. Not in Muskogee? Our exterminators also provide rodent control in Tulsa and the surrounding areas. 
Areas We Service Around Muskogee
Looking for pest control exterminators around Muskogee? We also service the following locations: